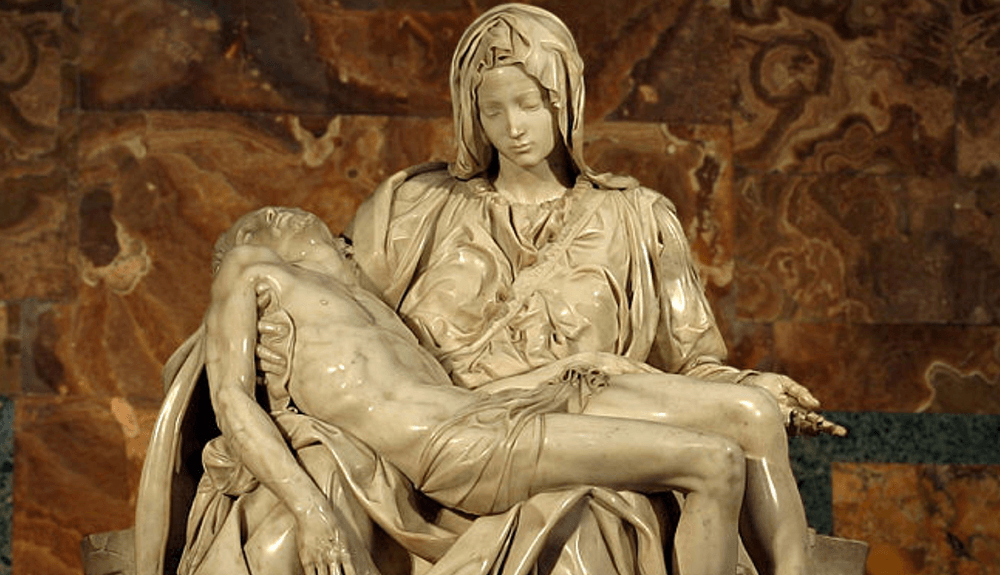 The fourth Sunday in Advent is called Mothering (Mary) Day. The liturgical color for our last Advent is blue because of heavenly blue is the color traditionally associated with Mary.  One of the many titles ascribed to Mary is "Queen of Heaven."
We know from the Gospel accounts that Mary said "yes" to the visiting angels who bore the news to Mary that she was to be the mother of the long-awaited Messiah. In our hymnody, this has been called "the glad tidings" of the angels. That's how it ended, but it's not how it began.
Mary's first reaction to the angels' news was fear and disbelief? "How can this be?" she says. Of course the Gospel account was written down many, many decades following this event, and so what we read in the Gospels are the remembered, edited snippets of what happened long ago. We don't know how long it took Mary to finally say "yes" to God: "Be it unto me according to your word" as we read the Gospel account. Nor do we know if the angels visited other women prior to Mary, women who said "no, no thank you."
The Church's commemoration of the Blessed Virgin Mary is for two reasons.  For one, it's because of our innate need for heroes: people to look up to, to revere, to emulate.  In the contemporary vernacular, we call these people "role models," and we all need them.  We particularly need people to look up to when the way is difficult, when life's challenges are so great and we feel so small.  For so many people down through the centuries, Mary is such a one: her suffering as a Mother, both in the birth and death of her son; her fear, converted into confidence; her generous availability to God; her advocacy on our behalf, whispering for us into God's ears when God seems too distant or unknowable or formidable.  For these reasons and more, so many people down through the centuries have looked to the Blessed Virgin Mary.
And secondly, the angels' visitation to Mary – asking Mary if she would bear and give birth to the Christ child – is not just an historic account remembered by the church.  Mary serves as a reminder of God's visitation to all of us all the time.  In the fourteenth century, Meister Eckhart, a German-born Dominican Friar, said, "What good is it to me if this eternal birth of the divine Son takes place unceasingly but does not take place within myself?  And what good is it to me if Mary is full of grace and if I am not also full of grace?  What good is it to me for the Creator to give birth to his Son if I do not also give birth to him in my time and my culture?  This, then, is the fullness of time: When the Son of God is begotten in us."[ii]
The invitation for all of us, which we witness in the Blessed Virgin Mary, is not just to receive Jesus but to conceive Jesus, to give birth to Jesus' light and life and love for this world through how God has uniquely created each one of us: through our very words and eyes and hands and heart to bring Jesus into the world, into our world.  Our simply waking up to a new dawn is evidence that God has something more for us to give birth to in this life, in the name, and love, and power of Jesus.  Each day is a new invitation, a new visitation from God to each of us to bear and give birth to Jesus.  The Blessed Virgin Mary gives us the example and the courage to say yes: "Be it unto me."